June 23 - July 2, 2022
Sister Cities Edition
Dee Dee Bridgewater
July 2, 2022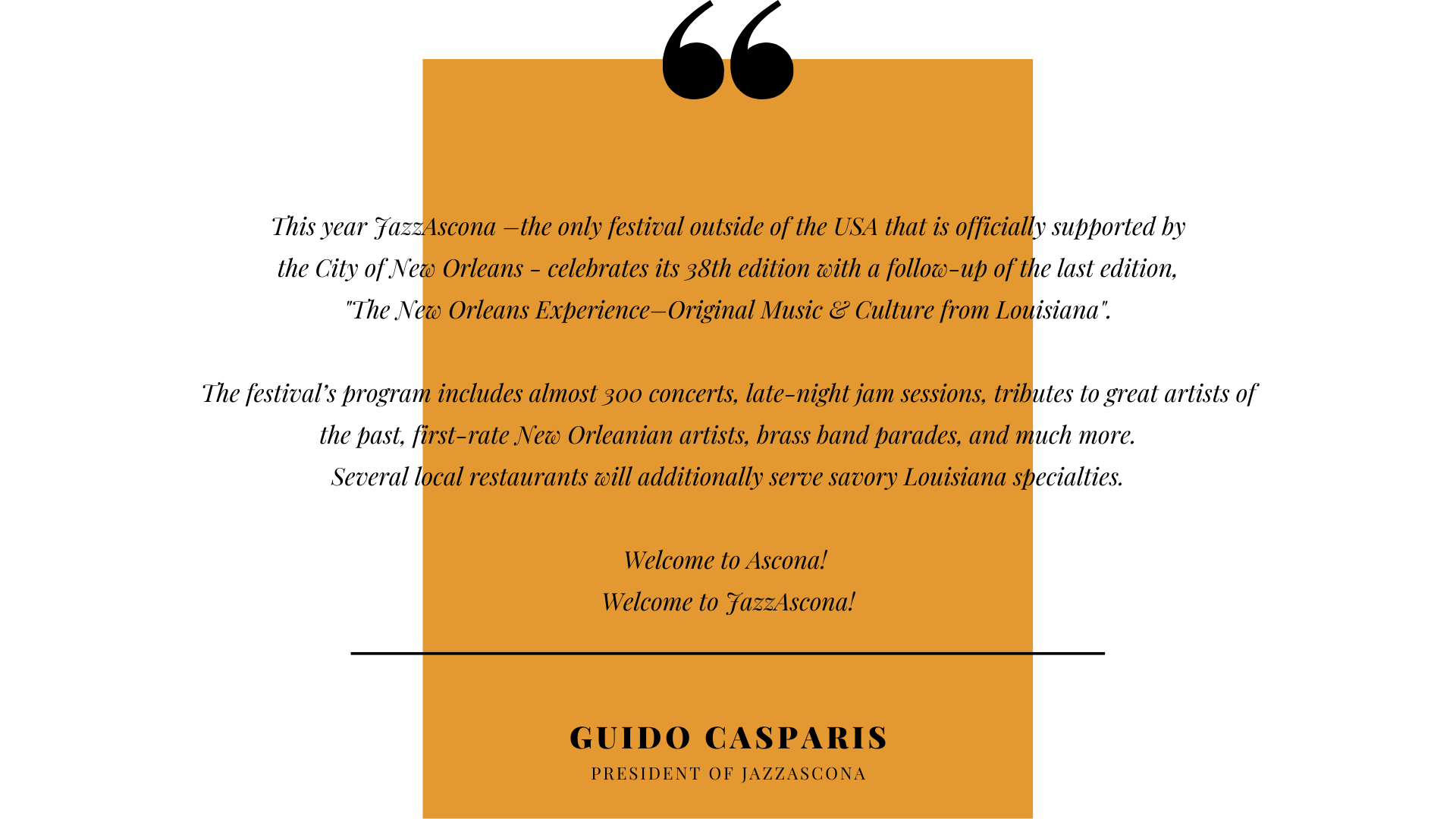 This year JazzAscona –the only festival outside of the USA that is officially supported by
the City of New Orleans – celebrates its 38th edition with a follow-up of the last edition,
"The New Orleans Experience–Original Music & Culture from Louisiana".
The festival's program includes almost 300 concerts, late-night jam sessions, tributes to great artists of the past, first-rate New Orleanian artists, brass band parades, and much more.
Several local restaurants will additionally serve savory Louisiana specialties.
Welcome to Ascona!
Welcome to JazzAscona!
GUIDO CASPARIS,
President of JazzAscona
New Orleans and Ascona are Sister Cities
The two towns have had strong ties for decades, now they are happy to announce the signing of the official documents that will lead to a formal linking of the two municipalities.
Ari's versatility, Ashlin's charge and Veronica's first time: the program for Friday, July 1
This Friday night is the right night to pop into Ascona if you haven't already done so and discover the new JazzAscona festival, which is achieving great success with its 350 totally free concerts and a formula involving the entire old town.
Even today, on the penultimate festival day, the bill of fare is proposed under the banner of the twinning between Ascona and New Orleans, which is declined with the participation of numerous «Sister Cities bands», formations created specifically for the festival that mix musicians from New Orleans, Switzerland and Europe. A good example of this type of lineup are the projects built around Ari Teitel, an extraordinary guitarist with the New Orleans Jazz Orchestra who we will see one last time tonight, starting at midnight.
Other highlights of the evening include bands such as the Four Deb, an Italian-Atlantic formation that offers impressive sound contaminations (7 p.m. Chiesa stage), the NOJO 7 (8 p.m. New Orleans stage), Ashlin Parker Trumpet Crew (very good, 11 p.m. Biblioteca stage) or Veronica Fusaro, a young Swiss soul singer who shines with her talent: she is a first-time guest of JazzAscona and will perform at 10:30 p.m. at the Seven Sea Lounge.
CAFFÈ CORRETTO JAZZ – Daily news from Ascona
Vote for your favorite band!
Once again this year, the JazzAscona audience can choose their favorite band by participating in a poll organized in cooperation with Azienda elettrica Ticinese.
The band that gets more votes will be invited to participate in the 2023 edition of the festival.
You can vote here: do it now!
JazzAscona 2022 will be "free entry"
As in the old days, starting in 2022, all festival concerts and workshops will be free!
Support the festival!
This year, JazzAscona will be 100% free. No more gates, queues, counters nor tickets! The festival will furthermore go beyond the lakeside promenade, involving the entire town and spread the music and it's atmosphere throughout the centre.