This year, JazzAscona will be 100% free. No more gates, queues, counters nor tickets! The festival will furthermore go beyond the lakeside promenade, involving the entire town and spread the music and it's atmosphere throughout the centre. The idea is to return to the spontaneous and authentically festive dimension that the festival used to have in its early editions. 
To make this possible, the increased support of the Municipality and Organizzazione Turistica Lago Maggiore e Valli are obviously crucial, but the JAZZ FRIENDS' contributions will also be all the more important.
In the past your support has always been very generous, so many thanks in advance for your precious support!
The JAZZ FRIENDS 2022 membership entitles to:
an invitation to the JazzAscona opening party

on June 23
exclusive seats at the Burlesque & Second Line workshops


reservation required
a 30% discount on a JazzAscona Edition bottle of gin
JazzAscona Edition

to purchase at
the Jazz Friends Shop
Exclusive seats
with welcome drink
at the New Orleans Terrace

reservation required
Exclusive seats at the Gospel concert
29 giugno ore 17:00
nella chiesa del Papio

reservation required
A "Giazz", the tipical JazzAscona popsicle
Jambalaya tasting
at Bottega del Jazz
in piazzale Elvezia
a bottle of
JazzAscona wine

to be picked up at
the Jazz Friends Shop
Newsletters and exclusive promotions
during the year
CHF 250.- / person
or more if you wish!
How to become a JazzFriend:
1. REGISTRATION
Complete here the online form.

2. PAYMENT
By Bank Transfer:
BancaStato, Locarno,
Associazione JazzAscona
IBAN: CH63 0076 4161 0426 9200 3 
BIC/SWIFT: BSCTCH22XXX

Or Twint: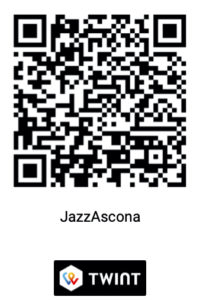 3. MEMBERSHIP CARD(S) TO BE RECEIVED OR COLLECTED
(after payment)
Your membership card(s) will be sent to your address by 10 June.
During the festival they can be collected at the JazzFriends Shop

Info, reservations & last minute requests
Gianmaria De Marmels
tel. +41 (0)79 337 03 30