REFLECTIONS
Christoph Grab, saxophones | Lukas Thoeni, trumpet | Andrea Andreoli, trombone | Baenz Oester, bass | Pius Baschnagel, drums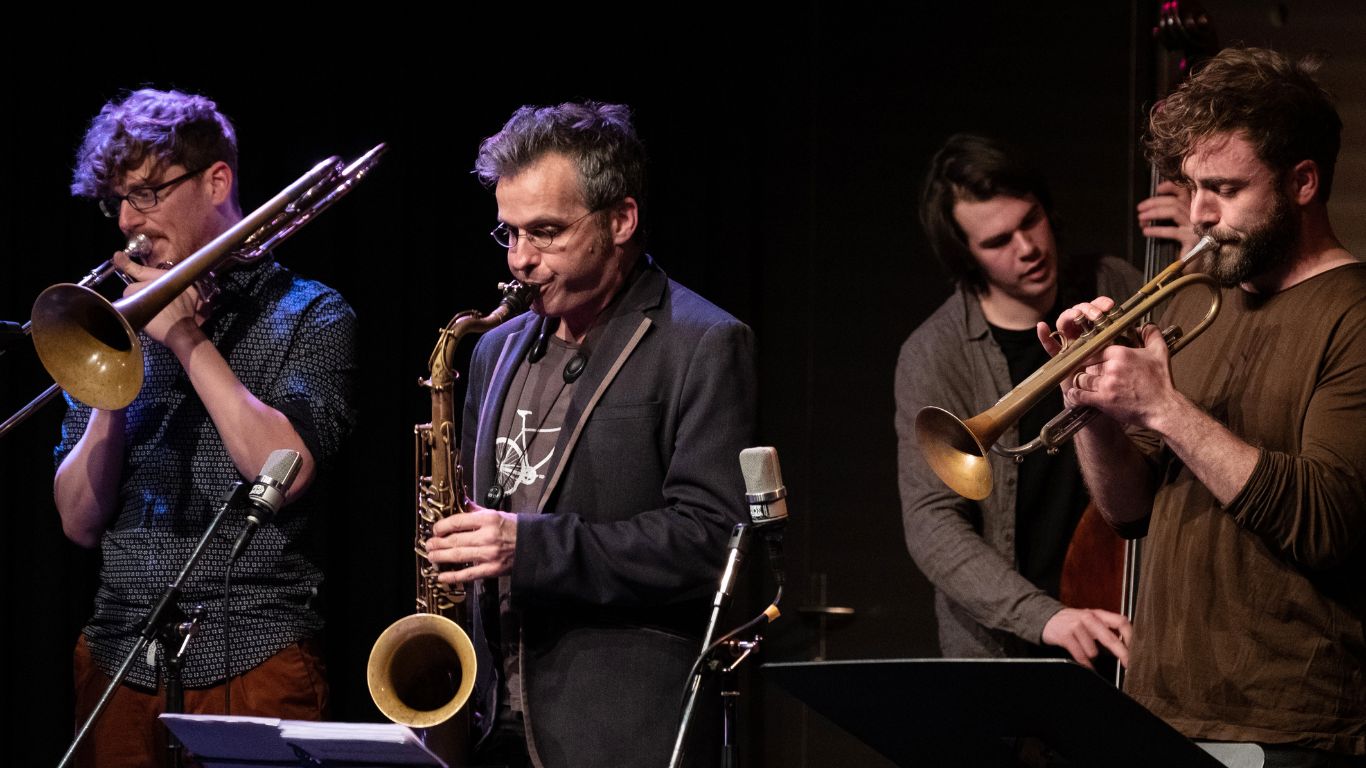 Christoph Grab: Reflections, the beauty of Monk's music
JazzAscona is delighted to host one of the most significant, versatile and creative Swiss Jazzmen of today. Some have rightly called him "a tradition-conscious modernist."  We are talking about Christoph Grab, saxophonist, composer and arranger, who for his artistic merits will be rewarded with the Swiss Jazz Award 2023, the prize that JazzAscona annually gives to outstanding personalities of the Swiss Jazz scene and which will be presented to Grab at his concert on June 24.
Christoph Grab has had Andy Scherrer, Sal Nistico, Jerry Bergonzi, Joe Lovano and Dave Liebman among his teachers and mentors. He boasts numerous radio and television recordings, countless tours, concerts, and performances around the world with the likes of Ray Anderson, Wolfgang Muthspiel, Irene Schweizer, Benny Golson, Joe Beck, Mark Egan, Danny Gottlieb, Frank Moebus, and many others.
Grab is also highly sought after as a freelancer and is active internationally in various ensembles and with various personal projects that reinterpret the roots of Jazz in a contemporary key. At JazzAscona he will present three projects: Reflections (on 6/24), Tough Tenor (on 6/27) and Root Area (on 6/28).
Reflections is a renowned Jazz quintet led by Christoph Grab (with saxophone, trumpet and trombone as well as bass and drums) that re-imagines the music of the visionary Thelonious Monk, one of Jazz's most original and inspiring composers who understood how to combine tradition and modernity. "In my arrangements," Grab explains, "I let Monk's compositions appear in a completely new light, without compromising their simplicity, and at the same time I create completely new 'vehicles' that form the basis for the group's improvisations."
Reflections
24.6 2023
First time at JazzAscona!
Swiss Jazz Award winner 2023 
From:
Switzerland

Style:

Jazz