JazzAscona 2023, a festival full of emotions
After a much-appreciated post-pandemic edition that highlighted the official partnership with New Orleans – signed off right during the festival by the mayors of Ascona and New Orleans – JazzAscona looks forward with renewed momentum and optimism to its 39th edition, which from June 22 to July 1, 2023 will offer a rich program with some 200 concerts and 350 invited artists.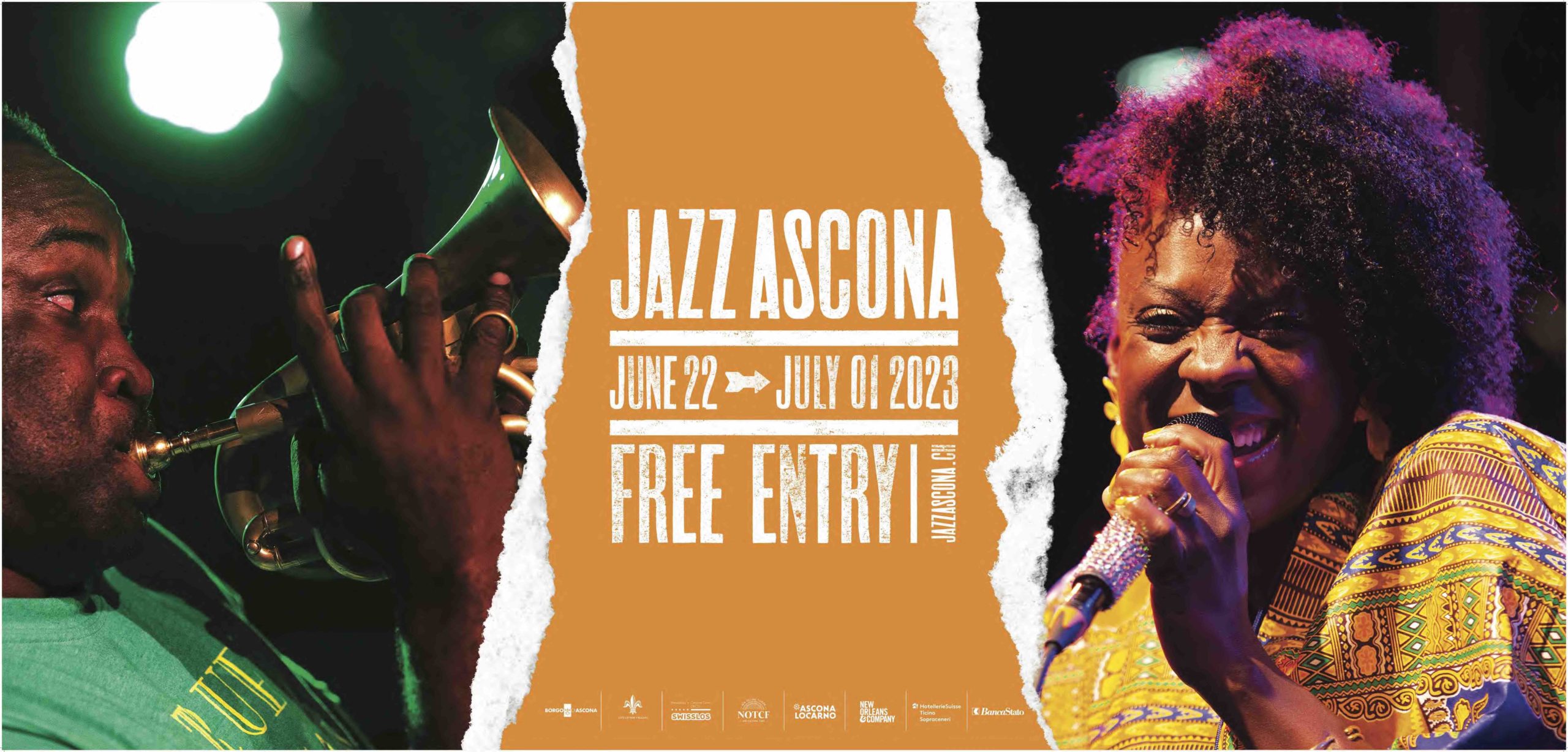 New Orleans will again be the keystone of a program that promises to be full of emotions and nuances. The program will reintroduce a more festive formula, with free admission to all concerts, four stages on the lakefront and numerous locations scattered throughout the picturesque old town, and often acoustic or semi-acoustic performances in bars, restaurants, alleys and small squares. A musical interplay of Jazz, blues, soul and other sounds (new this year, for example, some Latin American music groups) that will involve hundreds of artists from all over the world and will surprise visitors with an all-round musical experience with concerts from lunchtime until late at night.
Arriving from New Orleans, the festival again hosts the acclaimed New Orleans Jazz Orchestra, winner of a Grammy in 2010 and conducted by Adonis Rose, which will hold two concerts, both on the second weekend of the festival (June 30 and July 1) and also with special guest and internationally praised singer China Moses (June 29 and June 30), the daughter of Dee Dee Bridgewater.
Among the most anticipated names from New Orleans are those of singer Gabrielle Cavassa, who emerged as one of the great discoveries of the festival's past edition; the band Roccadile, led by the multifaceted bassist and guitarist Jenelle Roccaforte; and singer John Boutté, a member of a true musical dynasty, brother of the unforgettable Lillian and today perhaps the most beloved and popular singer in New Orleans, who will perform with the NOJO 7 lineup June 22–27.
From June 22 to June 27, Bo Dollis Jr. and his Wild Magnolias will be back in Ascona, reconnecting with the festive tradition of the Mardi Gras Indians, the groups that parade during carnival in colorful and extravagant costumes, inspired by the ceremonial garb of Native Americans. As heirs and representatives of this fascinating custom of New Orleans' African-American culture, the Ascona Jazz Award will be given this year to the very exponents of this sociocultural tradition.
Tied to the Mardi Gras tradition, Ascona will also focus on the Baby Dolls that lead back to the custom of African-American women in New Orleans dressing up to parade and dance, adorned in bright-colored satin dresses and skirts. In Ascona, some Baby Dolls will accompany musicians and brass bands on various occasions.
Taking a glance at the American artists on the bill, not to be missed are Davina and the Vagabonds, a band whose mix of blues, Jazz, R&B and honky-tonk has always been a big sensation (from June 28 to July 1), as well as the Ascona debut of young saxophonist, singer and multi-instrumentalist Vanessa Collier, an artist who has racked up awards at the Blues Music Awards (June 30 and July 1).
Also making their festival debut will be New York-based singer and pianist Nat Osborn, who with his seven-piece ensemble offers a very personal and gripping blend of pop, Jazz, funk, big band and other styles (June 27–28). Also in Ascona for the first time is Wayne Bergeron, a Grammy-nominated trumpeter who has played on more than 500 Hollywood soundtracks and recorded with Jazz and pop stars from Ray Charles to Diana Krall, the Green Day to Celine Dion and many others. He will be featured with the Stanford Jazz Orchestra, the student big band of the prestigious university (June 23–25).
Also featured prominently is acclaimed saxophonist Wess "Warmdaddy" Anderson, who will be leading an international band (along the lines of last year's Sister Cities Bands) with musicians of various nationalities, including Luca Stoll from Ticino and two very young musicians of the festival's "Groovin' Up" initiative.
The Groovin' Up initiative, established last year and dedicated to young musicians up to the age of 26, will make up a considerable part of the program, as half a dozen youth bands will participate. These include two from major New Orleans universities (Tulane and Loyola) accompanied by their professors, including New Orleans Jazz Orchestra bassist and bandleader Amina Scott, whom we will see performing with several ensembles. Also, young bands from Europe and Switzerland will take part, for example, the quintet of Manon Mullener, a young pianist from Fribourg that mixes Jazz and Latin music (June 24–26), and, of course, local bands from Ticino.
Among the most anticipated highlights of the 39th edition will be the refined tribute that the great Italian saxophonist Stefano Di Battista will pay to Ennio Morricone on June 27. It will be a unique opportunity to listen again to memorable themes such as Once Upon a Time in America, The Good, the Bad and the Ugly, as well as lesser-known songs and a new unpublished composition, Flora, which the maestro handed to the saxophonist.
Swiss music also takes the spotlight. In this context JazzAscona is glad to be able to host one of the most significant, versatile and creative Swiss Jazzmen. We are talking about Christoph Grab, saxophonist, composer and arranger. For his artistic merits he will be given the Swiss Jazz Award 2023 (on June 24), the prize that JazzAscona gives every year to outstanding personalities of the Swiss Jazz scene.
Highly sought after as a freelancer, Grab is active internationally in various ensembles and with several of his own projects, which reinterpret the roots of Jazz in a contemporary style. At JazzAscona he will present as many as three of his own bands: Reflections (his basic quintet and the music of Thelonious Monk, on June 24), Tough Tenor (Count Basie's music for big band in pocket format, on June 27) and Root Area (on June 28), a project playing an updated form of soul Jazz and that features saxophonist Nicole Johänntgen. The award-winning female musician living in Zurich will present her own new album Henry III at JazzAscona on June 29 with some funky grooves and rhythms inspired by New Orleans Jazz.
Another significant appearance (June 25–26) will be that of trumpeter Shems Bendali, a young Franco-Swiss talent making his debut in Ascona with a tribute to the culture of his home country Iran.
Once again this year, traditional Jazz styles will have a prominent place in the festival's programming counting a dozen bands from various countries. In addition to the 2022 Audience Award winners Frog & Henry, there are several new ensembles, such as The Echoes of Django, the young French trio The Rag Messengers, and the Berlin-based ensemble The Ragtime Nightmare. Newcomers from Italy include the Hot Gravel Eskimos led by one of the leading exponents of Italian hot jazz, multi-instrumentalist Mauro Porro. Also present will be historic Swiss ensembles such as the Wolverines Jazz Band, who have been on the scene for more than 60 years, and the New Orleans Hot Shots.
The traditional gospel concert, to be held in the church on the festivity of St. Peter and Paul (June 29), will be performed this year by Your Gospel Team, a collective of artists of various nationalities that stylistically focuses on traditional Afromerican gospel.    
Among this year's novelties, JazzAscona will offer for the first time the warm sounds of flamenco and Latin American music. On the lakefront it will be "fiesta" with Nolosé in particular (June 26–28), a band of ten musicians with a spectacular show. Flamenco lovers, on the other hand, will find a passionate interpreter in La de Triana, a band led by Swiss singer and composer of Italian-Turkish descent Esrin Sossai (June 23–25).
Two other important novelties worth mentioning are the lunchtime concerts, requested by the festival's most loyal audience that will be organized again this year.  Particularly The Terrace Kitchen (comfort food and music) by Banca Stato, which will offer traditional Jazz music in combination with a lunch menu of your choice at the New Orleans Terrace by the lakeside every day. Two sets are planned, the first between 11:30 and 13:00, the second between 13:30 and 15:00.
Furthermore, in collaboration with Ferrovie Autolinee Regionali Ticinesi, for the first time JazzAscona will organize a musical journey on the historic train of the famous Italian-Swiss railway. Soundtracks, the name of the offer, will be a journey through time, on historical coaches and accompanied by the vintage music of the band Frog & Henry.  At 25 mph, the train will make its journey from Locarno to Camedo (and back) catching the spectacular views of the Centovalli. The appointment is for Saturday June 24 in the afternoon.
Again, this year all concerts will be free of charge, thanks in particular to the efforts of the two main partners of the JazzAscona Association, the Organizzazione turistica Lago Maggiore e Valli and the Municipality of Ascona. On the other hand, a festival like JazzAscona could not take place without the commitment of private sponsors and institutions.
JazzAscona President Guido Casparis says he is confident that "again this year the public will appreciate the festival's new approach with free admission and greater involvement of the entire old town. The idea is to return to a more festive, more engaging dimension of JazzAscona, combining musical quality, stylistic openness and loyalty to its history. With the help of the Town of Ascona, the Organizzazione turistica Lago Maggiore e Valli, our colleagues at Hotellerie Suisse Sopraceneri, and the invaluable support of the Canton of Ticino through its Department of Education, Culture and Sports, and the support of the New Orleans authorities, we can look forward with optimism to the future of this important event for Ascona and Ticino."
As a reminder, JazzAscona is the only festival in Europe officially supported by the New Orleans authorities.