Bo Dollis Jr on free spirit dance and the New Orleans culture mix
We love magnolias; in our region the magnolia trees do grow luxuriantly. What kind of magnolias did you bring along from New Orleans for the Ascona audience?
The wild magnolias! I've brought the Mardi Gras Indians and I've brought the funk group The Wild Magnolias. I've brought the two things: the street-wise and the stage-wise.
What's the origin of the Mardi Gras Indians?
The Mardi Gras Indians started a long time ago just because Africans couldn't go to certain parts of the city. So we started our own Mardi Gras. You got the Mardi Gras Indians, the Baby Dolls, the Skeleton Men, and the Zulu. They started they own parades in the neighborhoods. And when they started it, in the 1930s, it just kept going, until the Mardi Gras Indians of today.
They started it all in the neighborhood for the elder people, who couldn't get to the parades, and so the Mardi Gras Indians would go to certain neighborhoods, the old people sitting on the porch, and having a good time with the Indians.
They have been up for a long time, and it's getting bigger and better.
And not only during the carnival…
With the Wild Magnolias we work all year, we do Mardi Gras Super Sunday, we have something called St. Joseph's Night, and we have jazz festivals and all kinds of festivals in New Orleans, and now we are here at the Ascona festival. And we are just keeping it going.
Your performance brings together music and dance. How do these elements work out together?
With our music there is no concept, it's just whatever you feel like. Some time I might feel like to jump off the stage, some time I might feel like to dance on the stage… It's something we call a «free spirit dance»: whatever you're feeling, that's what you're going to do.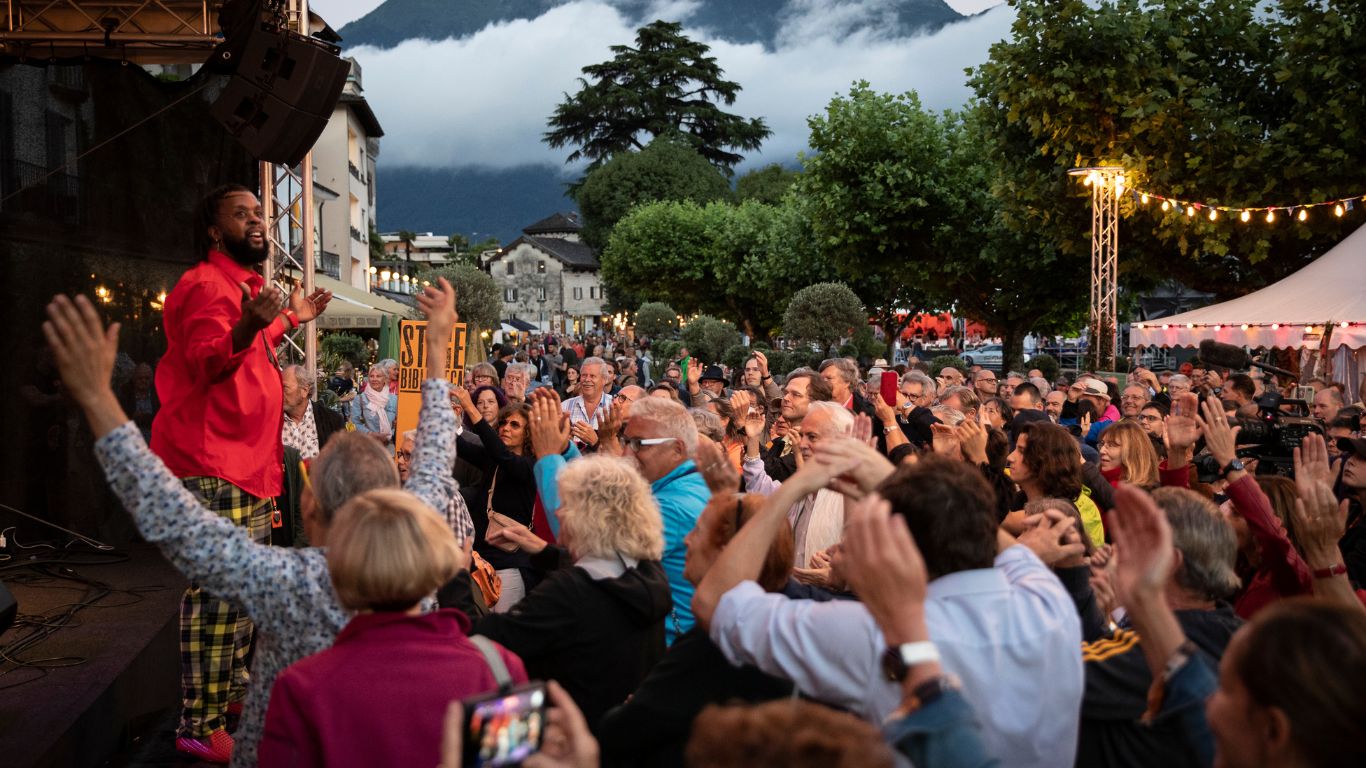 ©JazzAscona – Photo credit Gioele Pozzi
What's the message you are bringing to the world with your work?
I'm here in Ascona, our sister city, to bring the message of this music. Music is a universal language, and in that what we play, it's all about having a good time. New Orleans may have some bad sides but it still has its good sides, and you just go out there and have a good time.
The costumes of the Mardi Gras Indians are truly impressing. Tribal cultures come to mind, and a very unique mix of cultures.
New Orleans is like a Hubig's Pie, because you have so many different cultures and different aspects of the city, and it all blends together. My grandfather was French, what we call Creole, and my dad's side was Africa, it's so much intertwined with each other, and it all comes together at the end of the day.
To go back in my personal history, my grandfather, Harold Dejean, had his own Second Line band, the Dejean Olympia Brass Band, and my dad was Bo Dollis Sr, and he founded The Wild Magnolias.
©JazzAscona – Photo credit Gioele Pozzi
You took up your father's legacy, stepping in as a band leader after he passed away in 2015. Do you feel your own artistic approach is changing somewhat the direction of the band?
I'm still keeping it the traditional way, but I'm putting on a twist to the music. I still keep it the same funk, I'll leave it more to it. Danceable, and having fun.
I guess you pretty much grew up with the Mardi Gras Indians, tagging along with your dad and the parades. Do you have a childhood memory that you'd like to share with us?
I think, the first time I saw my dad in a Mardi Gras Indian suit, and seeing everybody like blown away. For me it was just my dad, who I saw every day, but these people were coming from all over the world, sitting outside, and waiting for him to come outside. And as he came out, some people just started crying. I was just 5 years old, and I didn't understand why they were crying, I mean, it's just my dad with weird clothes on. Well, his headpiece was so big, it covered the bus stop!
What about your ongoing projects?
I've just finished my new album, My Name is Bo. Cyrill Neville of the Neville brothers, he produced it. It's a two-sided album, one side is traditional, it's like the bass drums, tambourines and stuff like that, and then the other side is the Funk side, with guitars and all. That's something I'm really proud of. I brought some copies of the album to Ascona.