Dee Dee Bridgewater breaks a spear for women in Jazz
How was your experience in Ascona back in 2015 and what are your expectations for this year?
In Ascona I met many musicians. Projects and friendships were born that last to this day. The artistic exchange gave me a lot. The only regret is that I did not have time to see much of Ascona. Now hopefully I'll have a chance to make up for it!
You're touring with the New Orleans Jazz Orchestra. How did this collaboration come about?
It all started with Irvin Mayfield, the founder and former artistic director of the orchestra. I worked intensively alongside him over the past years, mostly to give visibility to the New Orleans Jazz Orchestra. It even resulted in a record, before I parted ways with the project. Now, with Adonis Rose as the new artistic director, I have decided to get back in the game, and here I am touring again with the New Orleans Jazz Orchestra!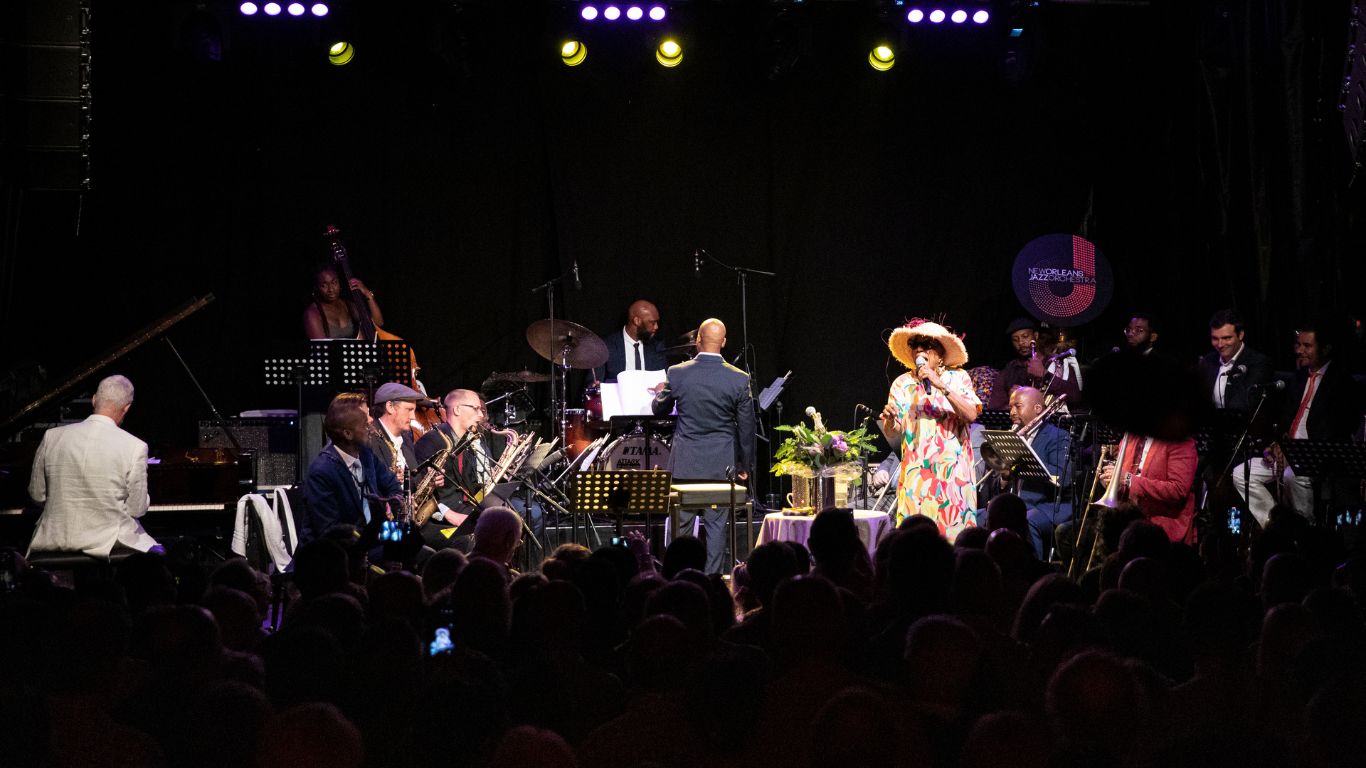 ©JazzAscona – Photo credit Gioele Pozzi
You have always been interested in musical exploration. It seems like no matter which musical context you find yourself in, you don't want to be defined or confined by anything.
I don't think anyone likes to be labeled, but by now I have made peace with the idea of being a jazz singer. I accept that, even though my interests are much broader and take me, indeed, further and further away from that definition. That even my latest record Memphis… Yes, I'm Ready, released in 2017, ended up in the jazz category makes me smile. I am currently working on a production of a musical for Broadway and considering whether to do a second one that has been proposed to me. I have walked the stages for so many years, which is not easy in an industry, the music industry, that is profoundly male-dominated. I can't stand injustice, and the truth is, I'm angry. At this point in my career, I prefer to invest my energy on other fronts.
Are you referring to your mentoring program for women in Jazz?
Precisely. I feel it is our duty to shift the culture to an environment that embraces, celebrates and supports women, who have and continue to contribute so much to this unique art form. The Woodshed Network is a program that was launched three years ago without a lot of fanfare – because I don't like to use my name to trumpet everything I do – and it is becoming something big. Mostly because of word of mouth. It's a one-year capacitation course for female jazz musicians who want to act confidently in the music industry. A career driver, in fact, that has already allowed numerous jazz musicians to participate in great projects or find their place in a band.
In this project you work alongside your daughter, Tulani Bridgewater. Can we safely say that you are building a legacy for future generations?
Yes, my daughter Tulani and I are both committed to making real change. We need to break the paradigm, and we will not stop until seeing women on stages is the norm. When I go to a concert accompanied by an all-women quintet or sextet, the organizers often marvel and ask me why I hadn't warned them sooner. And I go like: «Why sould I?» In short, there is still a long way to go…