Ida Nielsen on her career and Prince's artistic legacy 
When Prince signed you, you were already building your artistic empire with the Funkbots and a couple of solo albums. Then your trajectory changed. How did that come about?
Short version: in 2010 I got a call from his manager who said Prince saw my Myspace site and would like to jam with me. So I went to Minneapolis for a jam and after we played for about 20 minutes he invited me to join his band, The New Power Generation, on tour. That was the start of the adventure [smiles].
What was working with him like?
It was a dream come true for me… He was always a huge influence to me – even before I met him. So, of course, working very closely with him for almost 6 years taught me a tremendous amount in every aspect of being a musician. He really was a genius and made us all think of every decision we made – musically and practically – and I feel so thankful that I had the opportunity to watch how he worked from first row, so to speak. I learned so much about playing, arranging and producing, and I keep diving into that pool of knowledge in my musical life – both for studio work but especially also for my live performances.
This summer you are touring Brazil and Europe with the Funkbots. Is it daunting for you to take a whole band on the road?
No, it is a fantastic feeling! Even though conditions and stages are not at all on the same level as with Prince, it is very rewarding to get to make a living from creating and performing your own music. So I am super grateful that it is possible and that there is people out there who want to hear some bass heavy funk music!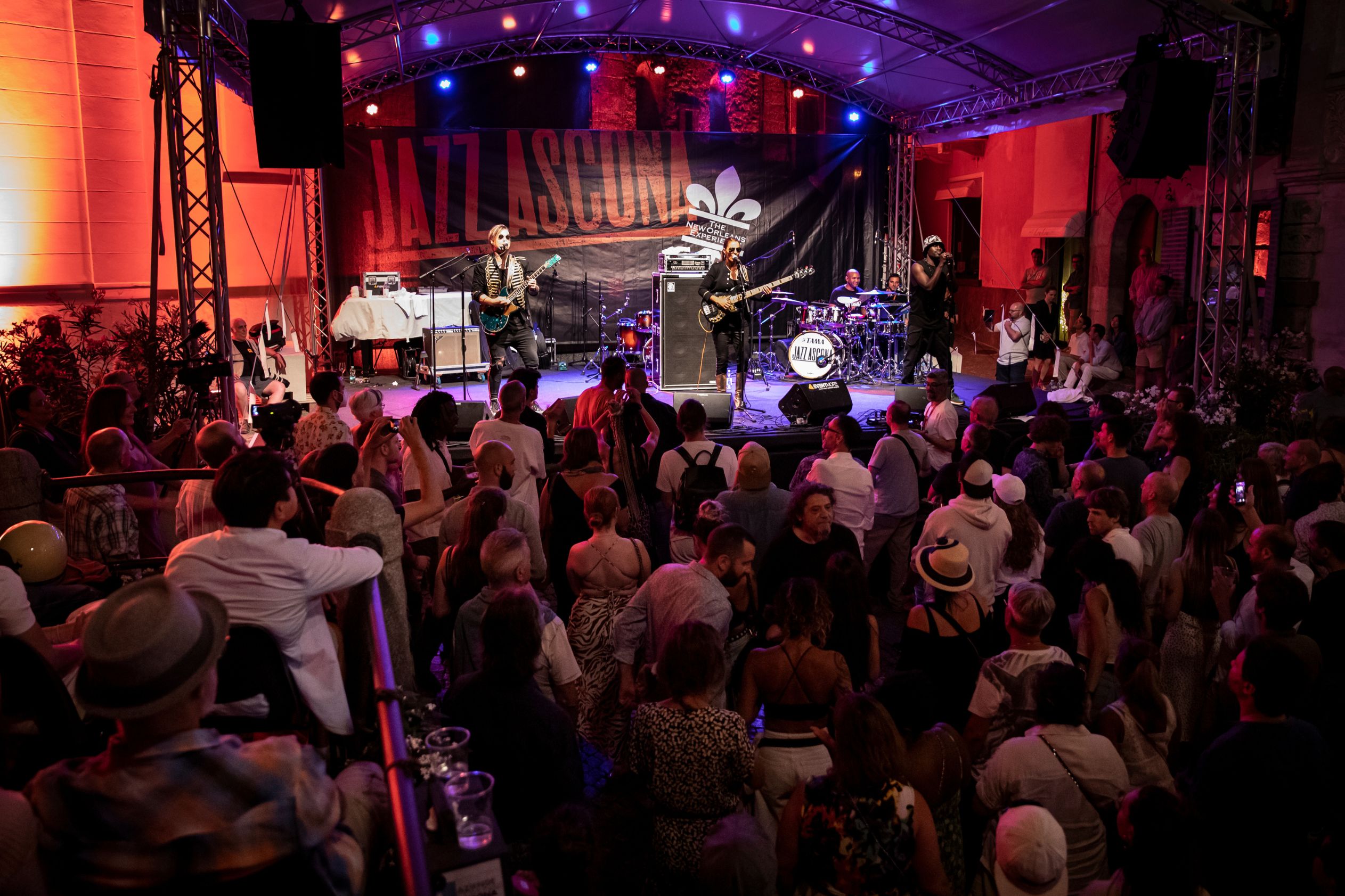 ©JazzAscona – Photo credit Gioele Pozzi
You created your own signature bass with the German manufacturer Sandberg guitars. How did this collaboration come about and what sets your signature bass apart?
I have known Holger (the founder of Sandberg Guitars) for many years, and in 2009, one year before I joined Prince, he gifted me a bass that I really loved, just out of kindness. So when it came to create a signature model it felt very natural to do it with him. But of course there are lots of very good bass builders out there – I just like the Sandberg basses.
My signature bass has got two pickups: one at the front for that old school funk sound that I love, like Larry Graham for example, and another that gives a more Jaco-Pastorious-like sound. These are two very different sounds that I both love. The combination of the two offers a very big variety in the sound spectrum, and you can have a more modern, smooth sound. The bass is black and gold and is really beautiful, I think [smiles].
Your fifth album 02022020 was released in 2020, the year the pandemic outbreak. What were your feelings at the time?
Well, actually it was released on February 2nd and this was before the pandemic really hit (in Denmark at least). So at the release time I wasn't really aware of what was about to come.
The Covid restrictions that followed affected the whole arts and culture industry. How did the two years of pandemic change your artistic process?
It did several things: it really made me appreciate playing live again, but it also made me aware of the necessity of cherishing the now and the good things in life, such as nature and family. And it gave me a comfort in not stressing over things such as deadlines and so on.
I have also started a couple of new musical projects where I mostly play keys and program. I did a lot of livingroom recordings and the style is a bit different than my «Funk stuff».
What recommendation would you give to young players who envisage a career in the music industry?
They should absolutely follow their dreams. I believe that if you go for it and put in the work, good things will happen!